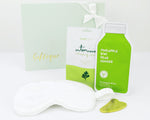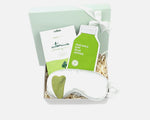 MINI REFRESH
Regular

$48.00
Sale

$48.00

Regular
Unit Price

per
Details
Introducing the mini Refresh Box, a compact version of our popular Refresh Box designed to elevate anyone's beauty routine. Packed with a luxurious satin sleep mask, two facial sheet masks that leave a radiant glow, and a mini gua sha for skin massage, this box is perfect for sending as a get-well gesture, bridesmaid present, or just-because surprise. You can even treat yourself to this little indulgence.
Due to the handmade nature of our gift boxes, we may on occasion need to substitute certain items with comparable products of similar value. 
THIS BOX INCLUDES:
Giftique- Mini Gua Sha
Gua Sha is a massage technique used in traditional Chinese medicine that involves scraping the skin with a stone to stimulate the flow of blood, fluids, and energy. 
Best used with facial oil to allow the gua sha to slide along the face smoothly.
WHAT IT DOES:
Helps contour the face, leading to a more youthful, radiant complexion
Each piece is unique and may vary slightly in color and size
 FACETORY Artemisia Refreshing Relief Facial Sheet Mask
This mask adds a radiant glow while also minimizing redness. Soothe and relax your skin with this calming sheet mask infused with Artemisia Extract. Skin looks and feels super healthy, plump and radiant afterward!
Key Ingredients: Artemisia Vulgaris Extract - A healing and repairing skincare ingredient that calms redness and irritation. It also contains Vitamin A and C, amazing antioxidants that help brighten and reverse damage.
Centella Asiatica Extract - A gentle yet powerful ingredient that calms, heals and balances the skin.
ESW Beauty Pineapple Kiwi Pear Ginger Facial Sheet Mask
About Me: Rejuvenate dull, tired skin and brighten your complexion with this pineapple infused sheet mask. Kiwi, ginger, and pear extracts work together to provide nutrition to your skin and leave it smooth and supple. 
- Clean Ingredients, Vegan, Organic, Cruelty Free, Eco-Friendly
Giftique White Satin Sleep Mask 
This sleep mask is a must for your nighttime routine. It is lightweight and will help you sleep comfortably. It makes the perfect addition to any gift. 
Size is 9" by 4"
HOW TO USE:
Make sure you are using your favorite facial oil with your gua sha.
Use over clean skin daily for 3-5 minutes; repeat each exercise at least 5 times per workout and do each side of the face separately for maximum benefits
Jawline & Chin: Glide the tool upward, from the center of your chin out to the earlobe to contour the jaw
Forehead: Start at the center of your forehead, dividing it into 3 sections, and glide the tool outward; scrape once then move down a bit and scrape again
Cheek: Start at the nose and work upward in a swooping motion along the cheeks and cheekbones, moving outward toward your ears; scrape once then move down a bit and scrape again; move down a bit more to the center of the chin and scrape again
Under Eyes: Start in the inner corner of the eye and glide outward toward the temple to send your eye bags packing; be super careful in this area
Brows: Glide upward along the brow bone, going from the inside out
Neck: Section your neck into 4 areas and scrape each section from the bottom up, moving for 5 strokes per section.