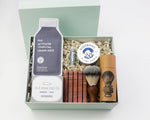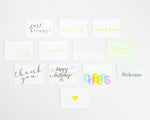 DETOX
Regular

$100.00
Sale

$100.00

Regular
Unit Price

per
Details
This gift box contains all the essentials for a much-needed moment of self-care. It includes an unscented lip balm, a face mask, a bar soap, a shaving brush, shaving soap, and a handmade red cedar soap tray. It's a thoughtful present that can be given on a variety of occasions such as birthdays, Father's Day, or simply as a gesture of care and appreciation.

Due to the handmade nature of our gift boxes, we may on occasion need to substitute certain items with comparable products of similar value.
THIS BOX INCLUDES:
Brooklyn Grooming-Rosewood Shaving Brush
This shaving brush is cruelty free and made with synthetic materials imported from Germany. The quality rivals that of the best badger hair brushes and produces a creamy lather for a smooth pleasant shaving experience.
Klar Seifen-Shaving Soap Almond 3.9 oz.
A touch of nostalgia comes your way as Klar's Shaving Soap Almond delivers a discreet and fresh almond fragrance taking you back to the Italy of the early 1950s. The finest plant oils ensure a close and long-lasting shave. You won't look back as Klar's almond shaving soap lasts much longer than you think producing a mild and creamy foam which also protects and cleanses sensitive skin. 
Made in Germany
Old Whaling Co. Bamboo & Teak Bar Soap
A soft, woody scent that inspires tranquility, Bamboo & Teak is a clean, fresh fragrance great for those who prefer lighter or more neutral scents. Subtle floral notes complement the woodsy profile, inviting peaceful moments of reflection with each use. This soap has a gentle, creamy lather that is great for shaving, bathing, hands and faces. It is cleansing, moisturizing and lovely to use from hair to toes! It also exfoliates the skin with fine grain pumice powder. 
Top: Green Bamboo, Carnation, Orchid
Base: Teakwood, Sweet Balsam, Water Lily
Hand-crafted
5oz each.
Humble Brands Unscented Lip Balm
Certified Cruelty-Free. 1% For the Planet Member
Size .15 oz./4.25 g
Sometimes you just want to smell like you. This Unscented Lip Balm is made with five clean ingredients and zero fragrance. Less is truly more, this Lip Balm Formula is hand-crafted with 5 clean, high-quality and sustainably sourced ingredients, because what goes on your lips goes in your body. 
Zero Waste Movement Handmade Red Cedar Soap Tray
This cedar soap tray is a beautiful and practical addition to your bathroom or shower! They are handcrafted from natural red cedar. Red cedar is known for its aromatic properties and gives off a subtle relaxing, spa-like smell. Grooves are cut into the wood to allow for proper water drainage, prolonging the life of your bar soap. Because each tray is handmade, they are all unique in shape, color, wood grain and have slight variations in size.
Sustainable
Organic
Eco-friendly
Deep Detox Pure Control Raw Juice Sheet Mask
This pore control targeted sheet mask contains activated charcoal, lemon juice, and H2O which help detox your skin. Charcoal, the star ingredient of this skin treatment, purifies, decongests, and draws out dirt and impurities from your pores. -Clean Ingredients -Vegan -Organic -Cruelty-Free -Eco-Friendly
Made in South Korea